Care and Feeding of Burnout
You've been doing too much for too long. And it's broken you. You're burned out. You're done.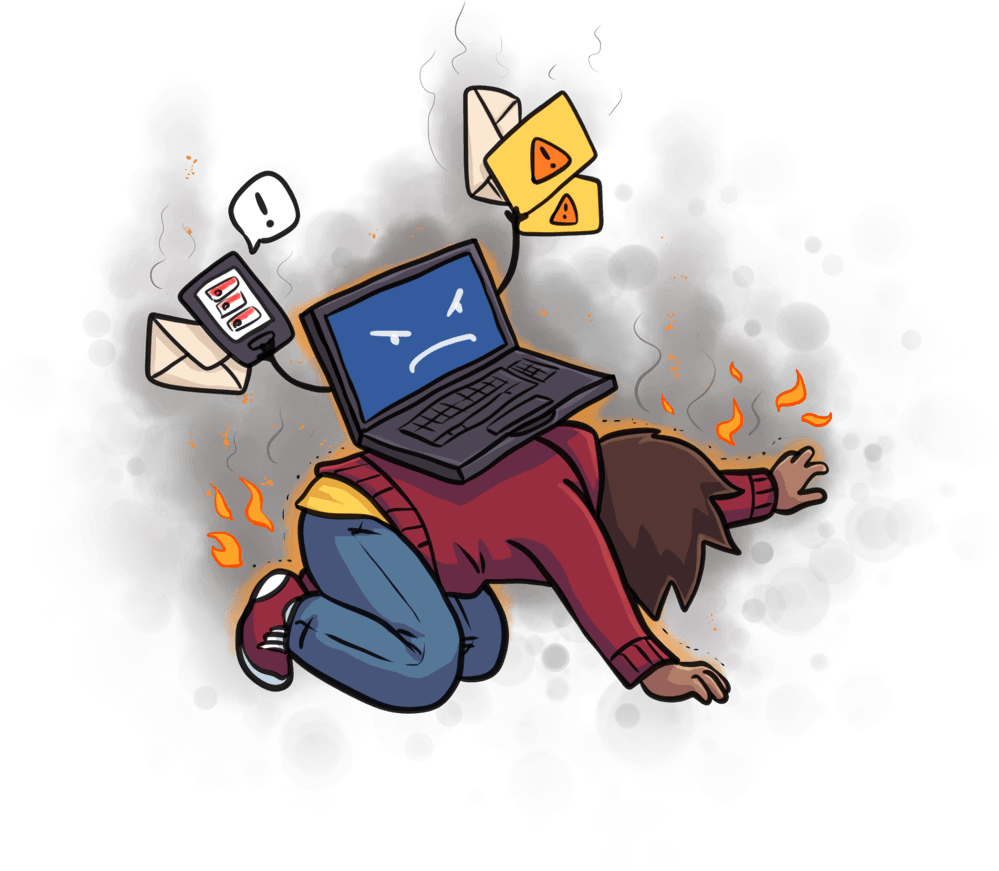 Occupational burnout is a long-documented effect of stretching yourself further than the limits of your mental and physical health can carry you. And when it finally catches up with you, it can feel like the end of the world. But things can get better. With focused self care, reworking your priorities and lots of time, you can slog through burnout.
What is burnout? The Tl;dr linkdump tour
In this article, we'll be looking at what you can do when you're burned out. We'll be skipping past a lot of information on what burnout is, what causes it and how it impacts the tech industry. We're able to skip past this because many technologists have already created valuable content targeted to our industry. The videos and writing below may be helpful for readers who are less familiar with burnout.
A Wikipedia article may be a great starting point for learning about occupational burnout.
This conference talk by Brandon West covers a lot of burnout 101, from the perspective of a developer relations/community professional.
April Wensel writes about the need for the tech industry to move from the Valley's burnout culture to a more sustainable model.
Catching Burnout [as] early [as possible]
One of the most challenging things about burnout is that it develops slowly and gradually. Many impacted don't notice the water warming around them until it's been brought to a boil, causing a crisis that can't be overlooked. Catching burnout and taking steps to deal with it as early as possible can help limit the length and severity of your burnout.
Getting in the habit of checking in with yourself regularly about your stress and energy levels can be an effective habit for assessing burnout and for general wellness. The Mayo Clinic recommends asking yourself the following questions to determine if you might be suffering from burnout.
Have you become cynical or critical at work?
Do you drag yourself to work and have trouble getting started once you arrive?
Have you become irritable or impatient with co-workers, customers or clients?
Do you lack the energy to be consistently productive?
Do you lack satisfaction from your achievements?
Do you feel disillusioned about your job?
Are you using food, drugs or alcohol to feel better or to simply not feel?
Have your sleep habits or appetite changed?
Are you troubled by unexplained headaches, backaches or other physical complaints?
According to the Mayo Clinic, answering yes to more than one of these questions can be a sign that you need to take corrective action. We'll look in more detail about the corrective actions you can take in the rest of this article.
Do less. Now.
To start getting things back on track, you'll need to start doing less. Less work, less stress, less everything. Many technologists impacted by burnout have written or spoken on taking months or even years off work to give themselves time to recover. This can be a fantastic route back to wellness for those fortunate enough to have the professional and financial security to allow them to take large stretches of time off work. For the much larger group of burned out workers that need to balance earning a paycheck with their wellness, this can be more challenging.
For those of us who need to stay in the cycle of work to fund our daily needs, finding ways to do less can feel like adding another daunting task to the pile. To properly assess where and how you can cut back on your commitments, you'll need to find a short stretch of time clear of stressors and responsibilities to take stock of what can be scaled back. A long weekend, weekend or even a few hours of time dedicated to looking only at how you can cut back on work and stress can be an effective way to take stock of your responsibilities.
Make a list of stressors and activities to begin to triage. Anything that would damage or seriously disrupt your life if not attended to (doing your taxes, showing up at work, paying rent) should be marked as essential. Grade other activities in your life, marking the ones that aren't essential and working to temporarily reduce these or remove them from your life. It can feel difficult to let go of things while recovering from burnout. This process can benefit from a second opinion, if you're working with a coach, therapist or trusted friend to manage your burnout.
Reducing your workload and stressors can let you begin to recover from burnout. You can reintroduce things back into your schedule and life. Reintroduce stressors and activities back into your life slowly, to minimize risk of relapse. Keeping a journal will let you keep tabs on how different activities are impacting your energy levels and state of mind.
Remove toxicity
Toxic people or settings can drain you faster than overwork alone can. While you work to reduce your workload and stress, coworkers, friends, family or bosses who are toxic influences can act as a multiplier for the stressors that remain. Identifying these people and limiting your interactions with them during your recovery can help you get back on track faster and happier. A journal can be an important tool in tracking how interactions with different people impact your wellness and state of mind. If the toxic presence in your life is someone you can avoid or cut out without penalty, burnout is a great reason to finally replace them with healthier relationships.
If you can't remove them from your life, minimizing the impact toxic people have on your wellness is vital. Work to identify what aspect of the relationship is draining or damaging and create interventions around damaging interactions. While a chronically complaining coworker's negativity can be stopped short with setting firm conversational boundaries and redirection, a combative boss can be a harder challenge. Seeking allies and advice can make you feel less alone in your battles and provide healthy emotional support.
Ask for help
Trying to find your way back to health and wellness after burning out can be a daunting task. Seeking help from health care professionals, trusted peers or both can give you backup on your journey back to feeling better. With symptoms that can mirror those of depression, burnout can be the precursor to a number of mental and physical ailments. Talk to your doctor immediately if you're experiencing symptoms of depression or any other health concerns.
Being open with your trusted friends about burnout can let you access valuable support and help explain why you may need extra care and consideration while you recover. Many suffering from burnout report finding maintaining relationships a challenge. Letting your loved ones know what you're going through and why you may be less available invites them to be more understanding of cancelled plans or other issues while you're recovering. Burnout can impact memory and cognitive function. Letting your support network assist in decision making during burnout can help add perspective to counterbalance these deficits.
Talking to your friends and peers about your health and needs can offer valuable support. But those who are pushed to a mental or physical health crisis by burnout should work with healthcare professionals to plan their recovery. Sufferers of mild to moderate burnout can also benefit from planning their return to wellness with an experienced practitioner. Medical or counseling professionals may prescribe medicines, talk therapy, group sessions or other therapeutic intervention.
Go easy on yourself
Recovering from burnout is a process that takes energy, time and compassion for yourself. In the same way that toxic people or workplaces can set you back, negative repetitive thoughts will harm your recovery. Recognizing that burnout's impact on you is a temporary state that isn't your fault can help you begin to manage your feelings and expectations for yourself. Sufferers often report feeling stupid, lazy or that they lack the skills to do their job. This is natural, as burnout can severely limit your cognitive function, your energy levels and resilience while dramatically increasing your cognitive load. Working with a counselor may help if you're finding it difficult to be patient with your progress back to health or are troubled by persistent intrusive thoughts.
Burnout can seriously limit the amount of energy you have. Spend as little of the energy you have left beating yourself up as possible. You're going to be ok. It's all going to be ok.
This article doesn't offer one-size-fits all fixes for burnout or overwork, but aims to provide a framework with points to consider that may help shape your wellness. No article can act as a substitute for professionally administered healthcare or robust self care.