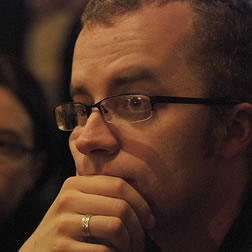 Articles by Ethan Marcotte
Ethan Marcotte explains the theory and practice of CSS gradients, separates the duelling syntaxes and wields a mean color-stop. No longer will gradients confound, baffle or frustrate. Just leave the rainbows to the unicorns.

Ethan Marcotte explores methods of delivering browser-tailored CSS to uncooperative user agents if the need arises. Like the brightly coloured, ill-fitting sweater granny gave you last Christmas, there's some styles that are only appropriate in certain company. Choose wisely, my friend.

Ethan Marcotte delves headlong into the sticky issue of centered, list-based tab navigation with remarkable verve and compelling results. Snuggle up by the fire with a hot toddy and a moist companion, for today's tip is freshly ironed for sir's pleasure.