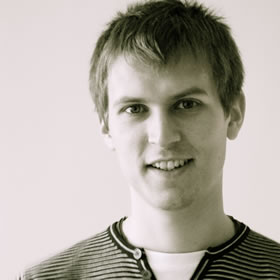 Drew Neil is an independent web developer and screencast producer. As well as loving all things web, he is totally nerdy about his text editor. He runs the Vimcasts podcast, where he publishes free instructional videos about Vim, and he is currently writing a title for the Pragmatic Programmers, Practical Vim, which will be published in 2011. He says that "Vim's documentation reads like a dictionary; I propose to write a phrasebook."
Drew calls Edinburgh home, but is currently working abroad. He enjoys speaking in public, and would love to talk at your local conference, user group or ignite session if you'll have him. You can follow him on his travels on Twitter under his moniker @nelstrom. If you share in his fascination for collective nouns, then you should check out his collection at All-Sorts.org.
Articles by Drew Neil
Drew Neil spins himself like a Christmas top to bring us HTML and CSS spirals, with a golden proportioned twist. Throw in some RGBA transparency and you'll soon be throwing shapes at the office party.