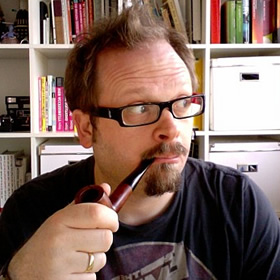 Jon Hicks is one half of the creative partnership Hicksdesign, designing for a variety of mediums, but with a particular fondness for icon and logo design. In fact he's written a book, about it called The Icon Handbook, released in January 2012. His recent clients include Skype, Mailchimp, Shopify and Opera Software, but is best known for his uncanny impression of Lucius Malfoy singing "I only want to be with you".
He blogs about design and personal interests (mainly Dr Who and Cycling) at hicksdesign.co.uk/journal
Articles by Jon Hicks
Jon Hicks slips the lambswool cardy of minimal markup beneath the stout tweed of CSS to discuss the elegant and practical potential of icon web fonts. Make simple, scalable icons on links, buttons and menu bars the port to your site's stilton this Christmas.

Jon Hicks takes a peek at using CSS to apply custom user styles to change the appearance of sites within your own browser. Put your existing knowledge of CSS to good use to make your own browsing experience more pleasant and productive.

Jon Hicks demonstrates how to use the Firefox DOM Inspector to debug problems in your CSS. It may not be the ideal time of year for seek and destroy missions, but I'd be prepared to overlook that. It's the season of goodwill, after all.