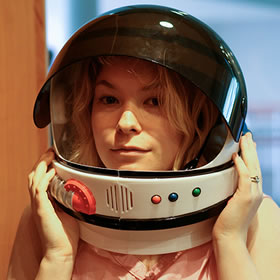 Relly Annett-Baker lives in the Home Counties with her husband, Paul Annett, and their two small sons. As a result, she thrives on the country air and can be guaranteed to stand on Lego at least once a day. Her principle employment is as live-in domestic staff for two cats but when not being purred into submission she is a content strategist and writer, runs dedicated workshops in-house with companies big and small and continues to procrastinate over the draft of her Five Simple Steps book 'Content Creation for the Web' due out in 2012. She'll get right back to it just after she's had another cup of tea and checked her RSS feed.
Articles by Relly Annett-Baker
Relly Annett-Baker, everyone's friendly Alien Overlord, powers up the Humongous Mechanoid of Content to wreak carefully planned strategic Christmas on your web projects. And this time next year, you'll all be asking for page tables as stocking fillers.

Relly Annett-Baker extends this year's daily December dose of web goodness to encompass the Twelve Days of Christmas, all leading towards an epiphany of delight in your content. Whip your content into shape for the New Year! And watch out for a strategically placed tea tray…

Relly Annett-Baker turns our minds to the oft-neglected subject of website copy, and how the small things you say can have a big impact on your customers, revenues, fame, fortune and luck with the opposite sex.