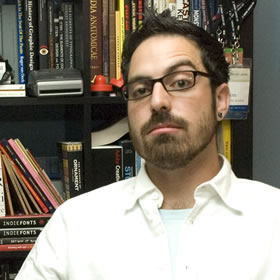 Jason Santa Maria is a graphic designer from sunny Brooklyn, NY. He currently works as Creative Director for Happy Cog Studios, a web design consultancy, and A List Apart, an online magazine for people who make websites. He maintains a personal site where discussion of design, film, and sock monkeys can often be observed. His work has garnered him awards and pleasantries ranging from firm handshakes to forceful handshakes with a little hitting. Ever the design obsessif, Jason is known to take drunken arguments to fisticuffs over such frivolities as kerning and white space.
Articles by Jason Santa Maria
Jason Santa Maria details his approach to building a modular system for laying out pages with CSS. Devising a method for dealing with the presentational when presentation is all you've got, this can be a handy way to predictably tame content without becoming predictable.

Jason Santa Maria continues our mini series looking at colour as he trips the light fantastic with your corporate brand guidelines. When is a colour not a colour? Read on and find out why old Saint Nic's collars don't match his cuffs.